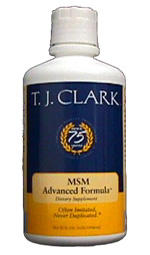 T. J. Clark's Liquid MSM Advanced Formula has 1500 mg of MSM per ounce, 32 servings per container when taken at the recommended one-ounce dosage.
Why take T. J. Clark's MSM over all the others? Liquids work better! Liquid MSM will provide better assimilation than any other form and it gives you the ability to easily adjust the dosage to your specific individual needs. *
MSM, or methylsulfonylmethane, is a safe natural, side-effect-free remedy for many types of pain and inflammatory conditions. † It is a natural substance present in food and in the human body. Some of the conditions that MSM may help relieve are: †
Back Pain
Headaches
Muscle pain
Athletic Injuries
Heartburn
Allergies, including Pollen, Food, Environmental
MSM has been helpful in allowing doctors to be able to lower the dosage of medication that they prescribe for pain relief. In some instances they were able to completely discontinue the medication previously prescribed. †MSM supplies biologically active sulfur as a nutritional supplement. Sulfur is a critical mineral element to the normal function and structure of the body. It is a raw material for the protein and connective tissue that make up our body mass, for enzymes that conduct countless chemical reactions, and for powerful natural compounds that protect us against toxicity and harmful oxidative stress. † Sulfur is not just around us, but inside us. It is the eighth most abundant element in ALL-living organisms. † In our bodies, it forms part of virtually all tissues, especially those highest in protein, such as red blood cells, muscles, skin, and hair. According to clinical experience, MSM provides relief for approximately 70 percent of patients with pain. † MSM is a great product for consumers that are seeking alternative remedies that do not cause adverse side effects. *
If you want a natural, safe and effective way to alleviate pain caused from a growing list of chronic ailments, then you want T. J. Clark's Liquid MSM Advanced Formula. * MSM is growing in popularity with consumers because IT WORKS, It's NATURAL, and It's NON-TOXIC! * Why chance the side effects that a prescriptive pain medication can cause when you can feel great with MSM? *

Supplement Facts

Serving Size: 1 Fl. oz (30 ml) (2 T)

Serving Per Container: 32

Amount

per serving

% USRDA

Vitamin C (ascorbic acid)
60 mg
66
MSM (Methylsulfonylmethane)
1500 mg
**

* Percent Daily Values based on a 2,000 calorie diet

** No daily value established

Directions: Take 1 capful once daily with food

* This statements have not been evaluated by the Food and Drag Administration.

This products are not intended to diagnose, treat, cure or prevent any disease.
T. J. Clark's Liquid MSM Concentrate Formula (8 OZ)
† Source: Some of the above information was found in "The Miracle of MSM, The Natural Solution for Pain", written by Stanley W. Jacob, M.D., Ronald M. Lawrence, M.D., Ph.D., and Martin Zucker. Various authorities on MSM and nutrition contributed additional information.